Column Repair & Replacement
U.S. Patent Number : 10,472,836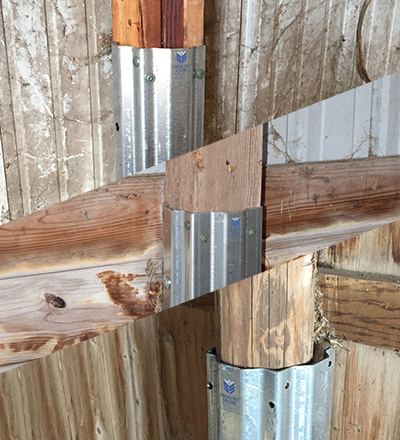 The Column Repair Sleeve
The Patented Column Repair Sleeve represents a breakthrough in column repair. Designed to reinforce existing wood columns that have deteriorated due to ground contact.
Made from 10 gauge galvanized steel and corrugated for added strength, the repair sleeve offers a permanent solution to weakened columns.
The smart design includes built-in uplift anchors which utilize the buildings' original uplift components, solidifying the building foundation even further.
The repair sleeve installs quickly with specialized equipment allowing for most jobs to be completed in a single day with little or no excavation required.
The Repair Sleeve works on almost any column, including solid, laminated, and round poles.
Benefits of the Repair Sleeve
Most jobs can be completed in a single day.
Less Hassle. Little or no excavation required.
Reduced labor means less cost than other methods.
Reinforces and stabilizes weakened columns immediately.
Corrugated Steel offers tremendous strength.
Protects valuable storage space.
Corrects settlement issues and prevents further damage.